What happened to Dane Cook? It seems to everyone who cares that Hollywood dumped Dane Cook. It feels like only a short while ago that he was everywhere, staring in his own movies, selling out big comedy crowds, and making annoying daytime TV appearances.
Dane Cook is one of the few comedians who jumped straight from the stage onto the big screen, and during the mid-'00s, he was everywhere. He even got to appear alongside heavy hitters like Steve Carell, and Jessica Alba and his comedy style seemed to strike a chord with audiences back then.
Ten years later and Dane Cook has been reduced doing voice roles in the more forgettable Pixar spin-offs like Planes and has only made small-screen appearances in movies like American Exit, which bombed.
So what happened to Dane Cook? Where is Dane Cook today? Well sit back, and we'll outline the demise and the hopeful resurgence of the Hollywood "King of Comedy" Dane Cook.
Employee of the Month bombed at the box office
I have to admit that this movie is a guilty pleasure, and I enjoyed it a lot. It was released at the height of his fame in 2006 and was set to be a smash hit. But things don't always go to plan, and the critics ripped the movie to shreds with Jessica Simpson doing enough to earn a Razzie nomination for Worst Actress. If you are asking, what happened to Dane Cook's career? Employee of the month is the beginning of the end.
Critics panned Good Luck Chuck
Cook couldn't catch a break, and his 2007 comedy, Good Luck Chuck, was also panned by critics, scoring a measly 5% on Rotten Tomatoes. Dane Cook and Jessica Alba were nominated for a Razzie, this time for Worst Screen Couple of the year. Entertainment Weekly also didn't hold back and opened their review with:
"Can we finally just admit that Dane Cook isn't funny?"
Comedians think he's a joke thief
There is nothing standups hate more than a joke thief. Like fellow comedian Carlos Mencia, Cook has been plagued with accusations of being a joke thief throughout his career. Joe Rogan accused Cook of nabbing some of his material, and comparisons have been made between Louis C.K's 2001 Live in Houston and Cooks 2007 special, Retaliation. Cook and Louis CK addressed the issue in an episode of hit show Louie where they discuss the joke-stealing saga.
Check out what happened last time Joe Rogan confronted a comedian for joke stealing:
Comedians hate him
Many comedians believe that it is Cooks's good looks and broad appeal that allowed him to get lucky and become a hit. SNL legend Jim Breuer was quoted as saying:
Not one comedian comes on [my Sirius Radio show] and says, 'I'm so happy for him,' which is weird. They can't stand this poor guy.
Obviously, the joke stealing has taken the shine off his success, and Dane Cook today has admitted he feels excluded from the inner circles of comedy. However, comedians can be a jealous bunch, and it can be hard to watch someone become so successful that you don't find that funny. But luckily, other comedians aren't the ones buying tickets.
Other movies didn't pan out
Dan in Real Life did relatively well at the box office and fared well among reviewers. But it was Steve Carell's leading role that got most of the praise, not Dane Cook supporting him. Then Mr. Brooks hit the screen, and he appeared alongside Kevin Costner, but that didn't wow anyone either. With some critics slating his try-hard performance as a deranged photographer.
So what happened to Dane Cook? Well, it seems he just churned out a string of flops and Hollywood Dumped Dane Cook for it.
He missed out on the Captain America role
Back in 2010, Dane Cook took to Twitter to let his fans know he was getting shredded to audition for Captain America: The First Avenger. Hollywood insider sources revealed that Cook didn't even make the shortlist of actors to be in the running for the role. All that hard work for nothing!
His comedy albums are no longer bestsellers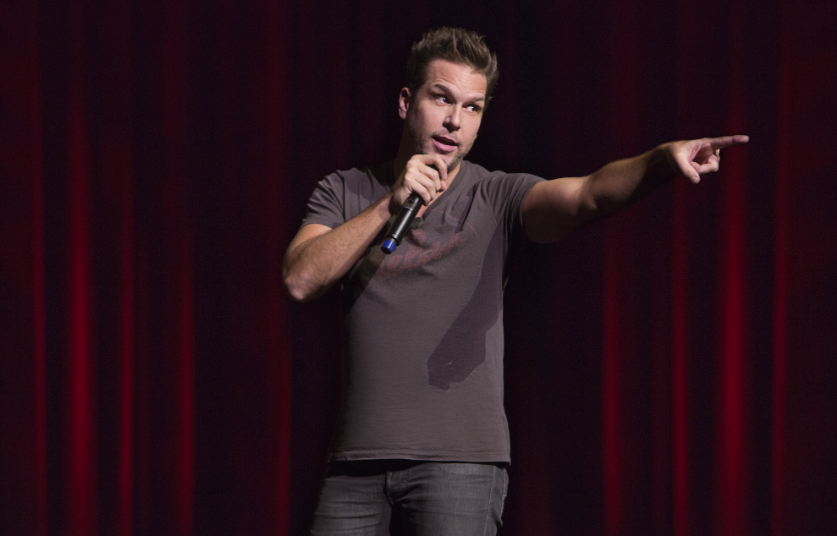 At the height of his career in 2006, Dane Cook released Retaliation, which debuted at No.4 on the Billboard charts. It eventually went double platinum and is still one of the best-selling comedy albums of all time. Jump forward to his 2010's greatest hits, Did My Best, which managed to only get to No.165, and you can see why Dane Cook today is not the man he once was.
However, I am sure he isn't too worried. Dane Cook's net worth sits at around $35 million, so he has some pennies in the bank for a rainy day.
The Movie Theatre Shooting Joke
Following the tragic cinema shooting in Aurora, Colorado, Cook told a joke at the Laugh Factory a week later, which got him in a lot of hot water. Although he turned to twitter and apologized to his legion of dwindling fans, it was too late. We're not going to repeat the joke as writing down individual lines of an entire comedy routine takes them out of context, and it should be for the audience sitting in the seats to decide whether they liked it or not.
But here is one of his other jokes for you to enjoy.
His Last Special Didn't Make A Splash
In his early years, Cook was selling our Madison Square Garden, an impressive feat for anyone. His 2014 special, Troublemaker, which was produced by Showtime, was delivered in a more intimate setting. The reviews for the special are good, but it didn't make the waves that the comedian had hoped for.
He's no longer the king of social media
Comedians now build entire careers off the back of their social media success, but back in the day, Cook was one of the first to get the formula right and gained a lot of following through it. He had a lot of success with MySpace (remember that?), but this didn't translate to other platforms like Twitter, which is now the de-facto platform for comedians trying to build a fan base.
While his 3.5 million twitter followers are not to be scoffed at, it is nothing compared to other comedy heavyweights like Kevin Hart, who was 31.8 million or Daniel Tosh with 25.6 million.
His sci-fi project crashed hard
Back in 2016, Cook produced and acted in 400 days, a deep space thriller. It had some decent names on the cast list, including Brandon Routh and Caity Lotz from Legends of Tomorrow, but still sank. It only grossed $58 million in cinemas in the UK and got a laughable score of 13% on Rotten Tomatoes.
It seems what happened to Dane cook is he just can't put out anything worth watching.
His NBC sitcom never aired
Never one to give up, Cook was set for a return in an NBC sitcom called Next Caller. He was poised to play a loud both radio DJ coupled with a feminist cohost. The show was canceled before it even made it to air. NBC cited creative differences with the creator Stephen Falk and Cook, binning off the four episodes that they had made in 2012.
Dane Cook On The Rise Again
Dane Cook in 2020 could see a rebirth. Hollywood is notoriously fickle, as are the fans who enjoy the big screen. Cook received praise for his appearance in Workaholics and played Robbie in American Gods, the on-screen adaptation of Neil Gaiman's fantastic novel.
So what happened to Dane Cook's career? Well, in summary, he had a series of complete flops both in the movies and on TV. He ruffled too many feathers in comedy, and then his latest special also flopped. Dane Cook today might be better off aiming small, seeing some modest success, and then going from there.
What happened to Dane Cook? Your Questions Answered
How much money did Dane Cook's brother steal?
Dane Cook's brother Darryl McCauley has been made to pay Dane Cook $12 million after embezzling money from him. He stole money from him while being paid over $150,000 a year as his manager.
What comedians sold out Madison Square Garden?
Only nine comedians have ever sold out Madison Square Garden, they are: Eddie Murphy, Andrew Dice Clay, George Carlin, Russell Peters, Dane Cook, Kevin Hart, Chris Rock, Louis C.K., and Aziz Ansari.
If you are a fan check out our update on Stranger Things Season 4 or for some easy viewing watch the best movie trailers of all time. For a challenge take our quiz on the most popular movies of all time.